Background:Deepano Technology is one of Chinese national high-tech company, focusing on AI visual hardware development and manufacturing since 2012. As well, Deepano team have accumulated well experience in AI visual related hardware's applications in smart campus, smart office, smart retail, and other regions. Facing the influence and requirement of COVID-19, touchless access control devices, touchless attendance devices and touchless temperature measurement devices come to our offices, how to integrate HRM system with these devices and apply in office? This is what we are thinking now.
Cooperation model
(here, name HRMS company as "XX" company)
| | | |
| --- | --- | --- |
| Party | Contents providing | Distribution policy |
| Deepano Technology | Hardware:1. Face Recognition Temperature measurement device (AITP04)2. Related API & SDK integration guideTechnical support:Deepano R&D providing necessary support to assist integration work. | XX company can authorize Deepano to distribute its software + device |
| HRM Software development company (XX) | Software:HR management software.Integrate Deepano device into software | Deepano can authorize XX company to distribute its device + software |
Deepano's product introduction
Product name: Face Recognition Temperature measurement device
Model: AITP04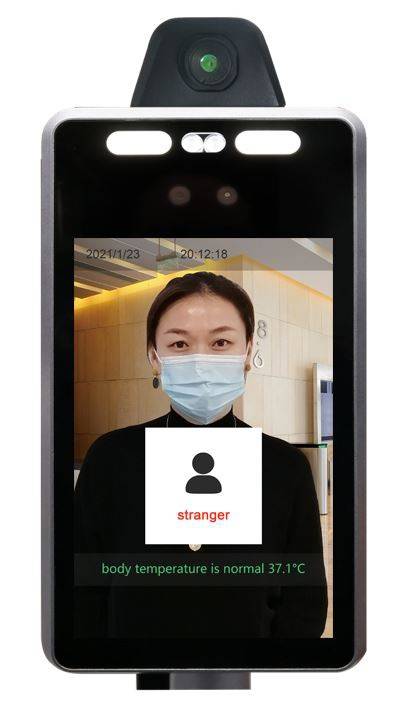 With its most advanced built-in facial recognition algorithm and high-resolution infrared thermography camera, can quickly identify passengers through Face ID, even who wearing masks. This system can also detect the abnormal forehead temperature without touch and assistance, which can help to protect both passengers and gatekeepers. This is an ideal solution for fully contactless access control.
Specification:
Target
Item
Specification
Thermal Model
Infrared Thermography Camera
Vanadium Oxide Uncooled Focal Plane Arrays
Maximum Resolution
160*120
Temperature Detection Distance
0.5-1.5m
Temperature Detection Accuracy
±0.3℃
Hardware
Processor
AR9201
Operation system
Linux
Storage
8GB EMMC + 1G DDR4
LCD
7 inches, 1024 * 600 resolution
Optical Module
Image Sensor
2 million effective pixels, 1920 * 1080 SONY IMX307
Signal to noise ratio
More than 50db (AGC OFF)
Wide Dynamic Range
More than 120db
Camera
Dual Cameras
Face Recognition
Face Spoofing
Support Face Spoofing Detection Using Active Near-Infrared Videos
Recognition Height
1.2 – 2.2 meters, adjustable angle
Face Library
50000
Recognition Distance
0.5 – 1.5 meters, variable depending on the lens
Face angle
30 degrees left and right, 30 degrees up and down
Interface
Push Button
1
Power
DV12V
Network Interface
1 RJ45 10M / 100M Ethernet port
1*2.4G Wi-Fi module (optional)
1*4G module (optional)
USB Interface
1* USB 2.0 interface
Machine Parameters
Operating Temperature
Face ID: -10°C – 50°C, For temperature measurement: 10°C to 35 °C (50°F to 95°F)
Operating Humidity
0%~90%
Power
Maximum power <24w, 12v power supply
Dimension
120mm*226.5mm*33.5mm