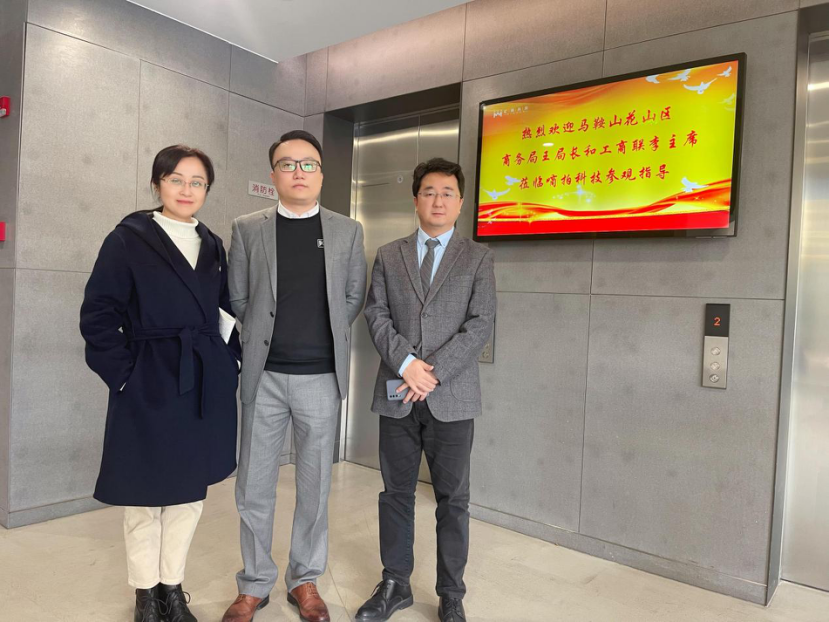 (Director Wang Zhuo on the right and Chairman Li Juan on the left)
On December 2, 2021, Wang Zhuo, Director of the Huashan District Commerce Bureau in Ma'anshan City, Anhui Province, and Li Juan, Chairman of the Federation of Industry and Commerce and President of the Huashan District General Chamber of Commerce, visited the Shanghai R&D Center of Deepano Technology for investigation and research.
At the research meeting, Director Wang Zhuo and Chairman Li Juan first learned about the company background, growth process, and practical application of integrated software and hardware solutions in various industries such as smart retail, commerce, buildings, parks, logistics, and government affairs. In the introduction, the two leaders were quite interested in the digital upgrading and transformation of Deepano Technology in smart government, smart parks, and other related cases in the field of public services. The relevant person in charge of Deepano Technology introduced the main product in the low-cost digital transformation scheme – edge computing box in detail. The concept of "spending small money to do big things" has also been recognized and appreciated by the two leaders. In the subsequent product display segment, the company's intelligent standards and customized products also left a deep impression on the two leaders. Director Wang Zhuo combined the development of intelligent hardware in the education field with his own examples, and proposed that intelligence is constantly changing everyone's life.
At the meeting, the two leaders also had in-depth discussions with the person in charge of DeepanoTechnology on the company's current development breakthroughs and future plans. Director Wang Zhuo expressed appreciation for the practical implementation of Deepano Technology in the digital upgrade of smart parks. He emphasized that artificial intelligence technology-based enterprises have broad development space in the context of comprehensively promoting digital upgrading and transformation nationwide. At the same time, we encourage Deepano Technology to utilize its core advantages in visual intelligence technology and rich experience in various application scenarios to participate in the renovation of Huashan District's smart government and park, and work together with local enterprises and institutions to promote the digital upgrading and development of Ma'anshan. Chairman Li Juan also fully affirmed the comprehensive strength of the company in terms of technology and provided reasonable suggestions for the company to create a brand effect.
The person in charge of Deepano Technology expressed sincere gratitude to Director Wang Zhuo and Chairman Li Juan for their visit, inspection, care, and support. They also stated that the digital upgrading of cities contains infinite possibilities. The company will actively embrace changes, seize opportunities, continuously strengthen management and operation levels and core technology research and development, expand product arrays based on market demand, fully invest in building the "Deepano" brand, and continue to promote the development and growth of the enterprise.